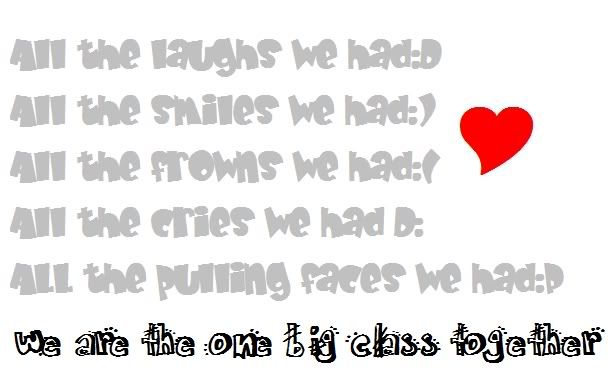 Welcome!
WELCOME to the blog of year 4Ikan Bilis'09! (:
Random PICS ♣
<3<3<3


Click ♣
01. Profile
02. Entries
03. Comment
04. Links
Now Then ♣
WishesTo keep this blog alive always! And…A bonded class (:



Quotable Quotes ♣
"I don't have towels and everything."-zhenling
"Its just a string of meaningless words."-kangrui
"class you all talk too much."-hydrus atoms
"一心不能二用"-hypno
"Huh? Where am I going?"-Jolene
"You all should eat some ice cream"-sshhh!
"I'm sure you all know i'm very kind..."-kindness
"What is the switch for?"-kangrui


Welcome! A bonded class of Ikan Bilians FOREVER! (:




.